It's true - fashion has deeply intertwined its roots with the star-studded, media industry in Pakistan. It's a universal law that individuals in performing arts have a mass impact on the fashion trends of any country. Be it the ramp walks, drama serials, or even the movies, we glimpse down to various voguish moments where artists reveal their new takes on fashion, which includes trying out new sunglasses and regular glasses. Although they started out as an optical commodity over the years, glasses have achieved a cardinal status in the world of styles. Explore what celebrities endorse when it comes to sunglasses and eyeglasses at Eyeglasses. pk.

1) Bilal Khan - Singer, Composer & Songwriter
Bilal Khan is a renowned artist with a gifted melodious voice that puts the youth fountain of Pakistan into awe. After he debuted in Coke Studio, Bilal Khan attained nationwide recognition. Chaired the Music Society at LUMS and journeyed into the world of fun-vlogging where he started making waves on the fashion canvas with new hairstyles, outfits, and the glasses catalog. Here, he flaunts browline sunglasses and set another stylistic example in sunglasses.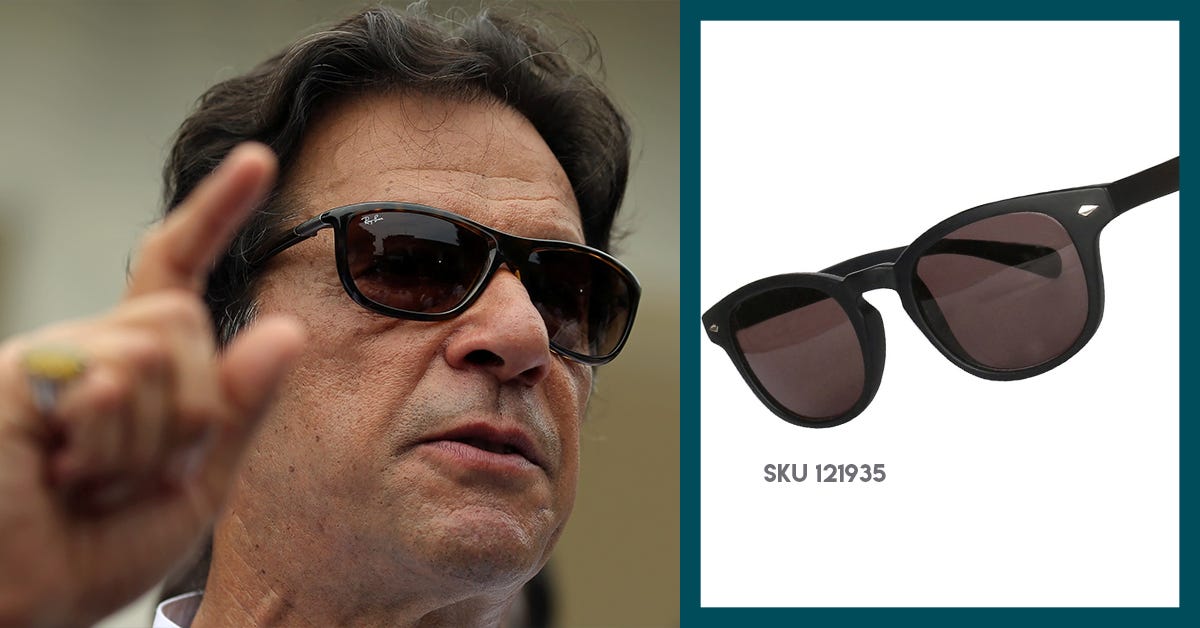 2) Imran Khan - Politician & Ex Cricketer:
We all are aware of Imran Khan's taste of fashion when it comes to traditional outfits, flashy sandals and the pair of swanky browline sunglasses. He's a complete suite in the political landscape of Pakistan with his fashion sense sparkling internationally. With foreign exposure, Khan keeps his finesse up & up with contrasted outfits and stylish sunglasses. Get this pair here.
3) Mahira Khan - Actress, Host & Model:
Having set a milestone for the first Pakistani actress to have worked with Bollywood King: Shahrukh Khan, Mahira Khan has startled all media outlets with ground-shaking acting and a thing for vogue. Her modish attendance is amply persuasive to believe that she's liable of miracles. Here, Mahira Khan keeps it casual with gloriously black pilot sunglasses on her demeanor.



4) Fasi Zaka - Journalist & Radio Jockey:
Fasi Zaka - the winner of prestigious Rhodes Scholarship, is a prominent name in journalism and radio shows. His versatility is further justified by his working timeline as a music critic, political commentator, newspaper columnist and the co-host of a leading radio-show in Pakistan. Zaka - unlike his satirical opinions on air, has a sophistication for rectangle rimless glasses.


5) Asim Azhar - Singer & Songwriter:
Asim Azhar - with his fiery voice and dappered up attendance, is another fashion icon of Pakistan for the young music enthusiasts. After entering the realms of Coke Studio, Asim started turning heads with exclusive fashion taste with ripped jeans, loose postered tees and even modish glasses. Here - he's on top of his lungs with pilot frames adding up to his steamy attendance. 6) Hareem Farooq - Model & Actress:
Hareem Farooq entered the media sphere with a bang. Currently, she's enrolled with various fashion outlets and has been a show-stopper for high-end designer brands. She debuted in the Pakistani film industry as a main protagonist in 2018. Here, she pridefully flaunts her black round sunglasses.


7) Hamza Ali Abbasi - Model, Host & Actor:
Hamza Ali Abbasi is a jack-of-all-traders media personnel with subversive political views and acting prowess. Over the years, Hamza has been a part of mega hit dramas, fashion ramp walks and political shows. Above all, he exhibits a scintillating fashion sense which makes him wear luxuriously designed glasses. Here, he's embraces soberness with dual-shaded rectangle glasses.
---