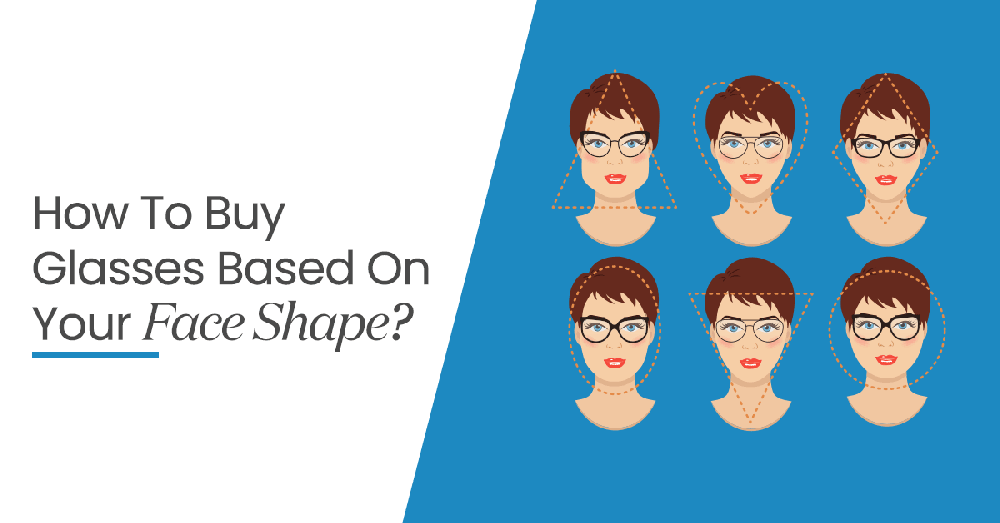 It has become extra important to buy your eyeglasses in line with your face shape. There are numerous benefits to this prerequisite that enable glass-wearers to order frames that contour their face with perfection: grip, comfort, and feel, all offer the right assistance in finding the best glasses for your visage. It means that everyone has their own way to shine and all individuals exhibit a mildly different face shape. With that said - we've categorized the face shapes of 8 billion people around the globe with 5 universal categories that help commission the best glasses for your face. Explore how to order your glasses based on the face shape by simply understanding the Square, Round, Oval, Heart, and Triangular face shapes that carry a variety of facial features, cheekbone points, angularities, and roundness to acquire the best glasses online.
Round Face Shape - Style Tips & Indications:
It is self-explanatory that the round face is smoother and wider than the other face cuts. It exhibits the same width from its jaw up to the eyebrows, making it a face shape of soft curves. It represents a not-so-tapered chin and fuller cheekbones that add up to the roundness of the face. It has no angularities and face features just blend in with one another with a subtle distinguish.
Indication
Same Face width
Soft Curves
No Angularities
No Pointed Chin/Jaw
Style Recommendation
Rectangle Frames
Cat Eye Frames
Square Frames
Flat-Top Frames
Square Face Shape - Style Tips & Indications:
This face shape offers an equal width to the cheekbones, forehead, and jawline because the square face shape is more angular than the other face cuts. It exhibits a bold representation of the face and casts 3 main face features under one width limit. The cheeks could be wide and so do the forehead but it stays aligned with the outline of the face. It does not bulge out or create a circular feel.
Indication:
Major Angularities
Wide Forehead and Chin
Bold Face Cut Feel
Long-Spread Cheekbones
Style Recommendation:
Round Glasses
Oval Glasses
Thinly Built Frames
Pointed Glasses
Heart Face Shape - Style Tips & Indications:
Heart face shape is about a wider forehead and the narrowed-down bottom part of the face. It casts a balance of angularities and width. Not to forget - the heart shape exhibits heightened cheekbones regardless of the upper part demonstrating extended width. The heart shape is best for all glasses.
Style Recommendation
Browline Glasses
Mildly Decorated Glasses
Oval Glasses
Rimless Square Glasses
Triangle Face Shape - Style Tips & Indications

The triangle face shape is ultimately wider on the chin & jaws and considerably thinner when it comes to its forehead. It offers a good-tune mixture of angularities and wideness. This face shape creates a gap for the oversized glasses or frames that exhibit a wider forefront accordingly.
Indication
Narrow Chin
Wide Forehead
Major Angularities
Style Recommendation
Browline Glasses
Mildly Decorated Glasses
Oval Glasses
Rimless Square Glasses